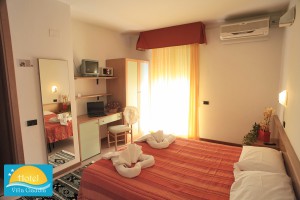 According to the philosophy of the Hotel Villa Claudia, live the holiday means to fully enjoy a moment in complete serenity and why not take the opportunity to raise awareness about what we eat and how to try to feel better through nutrition. Away from the street and worries, you can dive into a sea of unforgettable moments that only the Romagna Riviera can give and take advantage of events and courses organized directly within the hotel.
Hotel Villa Claudia has joined Legambiente Tourism and Green Tourism, and therefore offers an alternative holiday philosophy: the feeling of being at home, the spontaneity of our service, so many smiles to share also with the staff, to feel in harmony and full of life.
Come and discover our services: the rooms are all equipped with electronic safe, free Wi-Fi, private bathroom, large balcony with chairs.
Moreover, for those who love exclusive treatments, there are some Supercomfort rooms, newly renovated, spacious and equipped with shower cubicle, hair dryer, television, air conditioning and a lovely sea view, to admire the distant gleam of waves.
The hotel has an elevator, a phone and is air-conditioned in all common areas, to escape the summer heat and enjoy unforgettable moments in the cool atmosphere of our rooms.
It has a large parking lot where to leave your car in the shade of the trees: forget your car and the traffic chaos during your holiday, walk quietly to the sea or along the cool Viale dei Platani in Bellaria Igea Marina, full of small shops and clubs where you can satisfy your curiosity, have a drink or enjoy a good ice cream.
The hotel also has a special care for children: mothers (who want it) have free access to a small kitchen equipped with refrigerator, stove, baby bottle warmer, sterilizer, saucers, cups and cutlery baby line. We provide free vegetable soup and cream of vegetables. Guests will find a baby bath.
The freedom to be yourselves, the freedom to find you immersed in a simple atmosphere, while days go by quietly.
Forget time, let yourselves be carried away by a feeling of serenity and harmony, of well-being and relaxation.